Why getting involved in yet another war in the middle east is a Bad Idea
Lie #1: This is a humanitarian war
So-called "humanitarian war", which seems to be the justification for this round, is a grotesque contradiction in terms. Humanitarianism is a doctrine of empathy, kindness, and respect towards all human beings. A war can never be humanitarian, since it means working towards the destruction of human life. Proponents argue that we must kill in order to save lives – make that argument if you must, but please, don't call it humanitarian. It is not.

Lie #2: ISIS are a threat to the West
I question how much of a threat they really are – they certainly don't have weapons that can reach us – but this is beside the point. ISIS will not be defeated by military means. They are not a formal nation with a stationary military, they are a dispersed rebel force who moved to fill the power vacuum left in eastern Syria/northern Iraq after the regimes of the respective countries lost control. Their power has been vastly overstated. True, they captured a huge amount of territory in a short amount of time. But it is a desert, abandoned by other regional powers, and capturing territory is not the same as holding it. ISIS have killed some 1,000 or so people – albeit in horrific and high-profile ways. Their enemies, the regimes of Syria and Iraq, have killed a hundred times as many people. They have the support of the local populace thanks to providing services that the de jure states could not; they will gain even more with every bomb we drop there. Kill one Jihadi and ten more will take his place. If we really believe they are a threat now, then our actions will only make that threat worse.

Lie #3: They are extraordinarily brutal and must be destroyed for that alone
This is questionable at best. Of course they are brutal, but no more so than the regimes of Syria and Iraq, past and present. Beheading is certainly horrific – but how many people know that between 2007 and 2010 our ally, Saudi Arabia, beheaded 345 people, in public, by sword?

Lie #4: We have an obligation to the people of Iraq and Syria
Here I would be inclined to agree – I just don't think bombing them is likely to help. A quick bit of history: we have been at war with "terror" for 14 years now, dropped countless munitions on multiple countries, and yet the situation is worse than ever. As Einstein supposedly said: "insanity is doing the same thing over and over and expecting different results". I don't know what would work, but at this point if we feel the need to do something, we should do LITERALLY ANYTHING ELSE.

Other observations:

- We have a history of fanning the flames of conflict in the middle east, either by getting directly involved, propping up dictators, or arming rebels. The best way to stop embers from blowing back at us would be to JUST STOP DOING THAT
- We decided not to get involved in this war just months ago, on the side of the rebels. Now, we have joined on the side of the regime. I'm trying to resist quoting Orwell, but… I'm pretty sure people there don't believe us when we say "WE HAVE ALWAYS BEEN AT WAR WITH EASTASIA" … we seem so eager to join this war that it doesn't even matter which side we are on any more
See also:
Robert Fisk
Dan Carlin
Simon Jenkins
Nato Summit: History Stirs as World's Leaders Descend on Old South Wales
Adam McAdam
Wednesday 3 September 2014
Police officers guarding the NATO Summit security wall in Cardiff. Photo: Wikipedia
Breath was bated in south Wales on Wednesday as citizens awaited the arrival of more than 60 individuals with the power to end the world as we know it.
The group – who call themselves The Leaders of the Free World – chosen by their respective citizens to wield immense power, convene infrequently to discuss the ongoing survival of the human race. The issues on the table at the Celtic Manor Resort in Newport are no less terrifyingly ominous than in the past, ranging from dealing with the existential threat posed by the Islamic State Of Death To The West (ISDTTW), to the equally apocalyptic ongoing war between Russia and No One (You Can't Prove Anything).
A senior source in Whitehall said that the government was keen to "use every weapon in its arsenal" to appear "big and strong" in front of the world's gaze. A security operation costing an estimated £50m has militarised a miles-wide corridor of south Wales, with tens of thousands of police, soldiers and private security contractors in friendly blue hats covering every possible route in and out of the area, while helicopters and Nato warships protect the two-day conference from attacks from the sea and air.
Meanwhile, in the towns of Newport and Cardiff, citizens went about their business. Many are perturbed by having their hometowns placed under lockdown, while others eagerly await the economic boost to the area that is almost certain never to arrive.
John Business, the head of banking at Globocorp Finance, said there could be "profound" benefits to the region. "Hosting such a prestigious event will give our crypto-fascist corporate overlords the confidence they need to wrap their tentacles around the region and sink their beaks into the hearts of men."
Local residents showed notably less enthusiasm for their systematic subjugation and pillage. "It's like an invasion," said Mabel, a shopkeeper. "I feel like a terrorist. I'm not, though," she said, adding nervously, "please don't print that."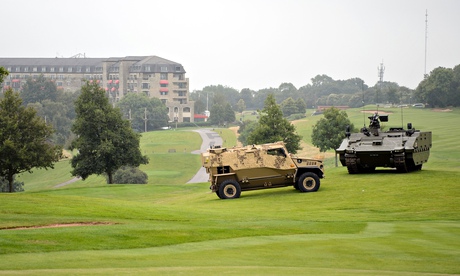 State-of-the-art military hardware guards the golf course from terrorist attacks. Photo: The Guardian
But the Number 10 insisted that it was necessary, given the threat level, which was raised on Tuesday to Severe With a 20% Chance of Armageddon. "We have to decide how to intervene in the middle east," said a senior source, "because we gave the Syrian rebels weapons and they turned against us, because we left a power vacuum in Iraq when we had to overthrow Saddam, because he turned against us after we had given him weapons to fight Iran, because the Ayatollah had overthrown the Shah we installed after we overthrew the democratic government of Iran, because they turned against us after we gave weapons to them, because…" he continued.
And he continued to continue: "You see, we had to invade Afghanistan because we gave the Mujaheddin weapons to fight the Soviets and they turned against us, because…"
When asked reluctantly about the situation in Ukraine, the minister simply screamed and ran away. At a meeting of the government's emergency committee CLSTRFUK on Monday, an aide clarified the government's position as "fuck fuck fuck fuck".
The current world situation has shaken more than just politicians, however. A small group of protesters plan to march along a pre-approved route to the designated free speech zone. "They can't ignore us," said Sarah, a protester. "I mean, they can. And they do. I don't know any more."
Local historian Clive Jones provided some much needed historical context. "This area has a rich and colourful history," he said. "Under the car park of the Celtic Manor hotel lays an ancient Roman mausoleum that bears the words 'unjust fate'. The Romans too conquered the known world, only to watch it slip from their grasp. They reached this place then, and unearthed horrors of which we could never dream. For there are even more ancient and horrifying religions than those we have now, and not even nuclear fire can calm their nascent ascent."
He continued: "That these so-called men should come to such a place as this is a portent of u̺̻̘̙̳̠̘͂̊̊̅ͣn̫̺̩̾͂i̳͈̳͖̮̺͎̒ma͇g̀i̺̩̻͖̰ͭ͊̔ͦͧn̟̉̃a̓̓ͫͣ͌b̳̘̖̺͐̎̎̄ͪͣl̒ͯͯ̋ḛ̯̣̗͚ do̞ͮͣ͌̌̀̅ò̱͋̄ͧ̿̑ͫͅm̮͍̙͋̆̓̀. Man is not separate from nature and cannot escape from whence he came. For when T͎͔͖̲ͪ̔͋͋͑̓ẖ̭̼͕̣͑̽̃̔̓͑͋ë̗̣̫̙́͑͊̔̚ Gr̲̙̠̰̭͈̿̓̂ͪ̿e̪͙͎̘͇͐̾ͅa̳̣̎̍t̠͍̘̼̝̘̬͚̓͆̉̆̾ͦͅ G̦̜͈͉͈̏ͫ̇ỏ̲̬͍̖̥͆ͧ͒̒̽͆̈d͖̻̟͈́̌͐̆ is arisen, all will burn with a fiery wild lust, and the new Gods and their earthly ambassadors will be powerless to prevent their demise."
The summit begins Thursday.
Full Circle
Liverpool's historic Pier Head (above) was supposedly the inspiration for The Bund waterfront area in Shanghai(below).
Now, Shanghai's Pudong waterfront district (above) has become the inspiration for the controversial Liverpool Waters development (below).
Full circle?
So it was that, in November 2012, I finally decided to sit down and get it written.
The story was untitled — or rather, over-entitled — but, in time, I took to calling it "THE MATTER OF LUCAS". As in: "I need to deal with…". As in: "that brings me to…". As in… "it doesn't" (matter).
Now that November is no more, and fifty thousand words have been extracted like bad teeth, I find myself in a place I've not been before. In fact, at times, I wonder if the gas ever really wore off.
But it's not over yet. There's still work to be done (isn't there always?). Pointing and sealing. Closing and finishing. Please bear with us during these essential maintenance works.
"I'll finish this, or it'll finish me."
In the meantime, I will keep this blog updated with progress reports for those interested in how things are coming along. I might even post the occasional sneak peek (see above).
So thanks to everyone who's shown an interest. I'll never be able to repay you for your faith and your kindness, but I hope that, when it's done, you get as much out of it as I have.
TM
You couldn't ask for a more obvious demonstration of double standards than this. For perspective, the $1.9bn fine is about 6 weeks' profit (not revenue: profit) for HSBC.
Sickening.